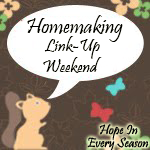 Grab the button here
and come join us!
There are a few foods for which everyone claims to have the "absolute best" recipe. Homemade salads, guacamole, quesadillas, and oatmeal cookies are a few. Any search for those recipes will turn up results such as: "world's best," "best EVER," "downright best." Well, when looking at homemade granola recipes, I ran into dozens of recipes claiming to be "the world's best" and they are all comprised of about the same ingredients in different proportions.
At long last, I just went with a recipe and now I'm sticking to it (I'll adapt it each time I make it and hopefully like all the variations equally well). I'm not claiming this is the best recipe on earth, but I will claim that hubby and I really like it. Our preferred way of consuming aforementioned delight is as a cereal with bananas and milk and/or with blueberries. But it also goes wonderfully just straight and dry as a snack, on yogurt, or on ice cream.
Golden Granola
Adapted from: Abigale Detweiler
4 c. oatmeal (uncooked)
1 c. coarsely chopped nuts
1 c. coconut
1/2 cup wheat bran (optional, it adds fiber)
1/2 c. honey
1/4 c. melted butter
1 1/2 tsp. cinnamon
1/2 tsp. nutmeg
1/2 tsp. salt
2/3 c. raisins
Combine all ingredients except raisins in a bowl and mix well. Spread evenly on an ungreased large rimmed cookie sheet. Bake in a preheated oven (350°) 15 minutes, stir, and bake 10 minutes more. Stir in raisins, cool thoroughly, and store in a tightly covered container in a cool dry place.
What are you cooking?